Two Strengths of U-PARTS
We abundantly offer recycled parts that passed our tight check using self-developed testing equipment.
Using our broad sales network with domestic and overseas manufacturers/suppliers, we also speedily offer products that suit customers' needs.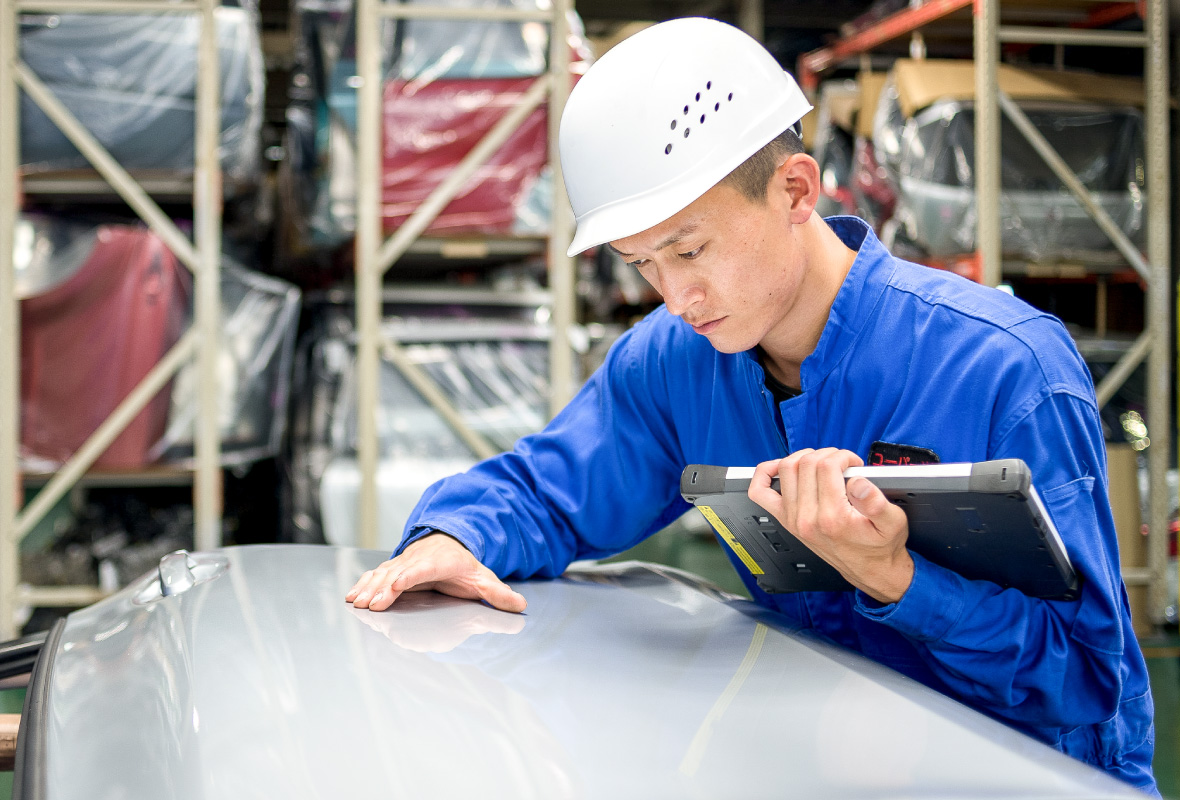 Reliable Quality
We check the quality of all engine pars and functional parts with self-developed dedicated testing equipment. Our skilled engineers sort out salable used car parts from dismounted parts and check them for flaws and dents.
They never overlook even small flaws not only by visually checking but also by touching by hand and reflecting light onto the parts. Needless to say, they also check for not only noticeable damages but also repairs. Information about found shapes and damages is stored and managed on our computers.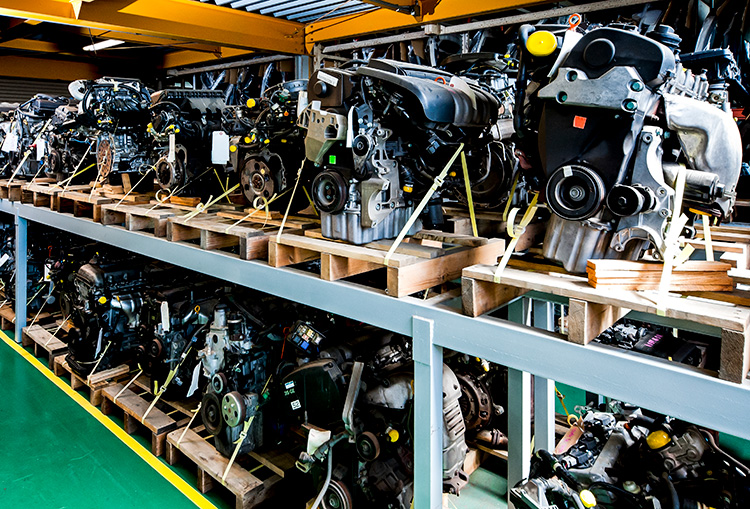 Rich Inventory
At our car body yard, we arrange car bodies so that we can distinguish them according to purposes such as parts collection and export. The inventory storage stores repair parts for not only Japanese cars but also imported cars such as BMW and Mercedes and medium- and truck. 
Even in case of stockout, we can search for the requested item on the nationwide recycled car parts store network's online system to provide the item to the customer. We immediately ship out requested parts from stock to the customer. Before shipping, we recheck the condition and car type of parts indicated on the slip output from the computer. Then we pack up the parts swiftly and securely to ship out on the same day.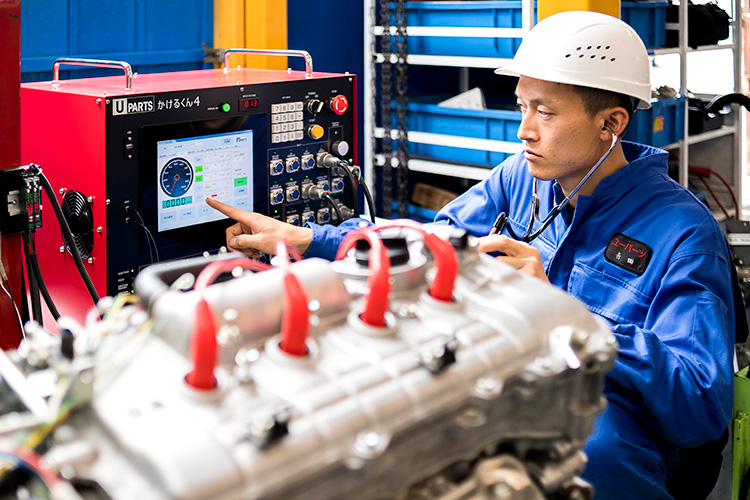 Unique Technical Capabilities
In our quality check, we not only visually check functional parts for sale but also actually drive all of them. If there is no appropriate equipment for the quality check, we develop dedicated testing equipment on our own. 
With such strict inspection standards, we are able to offer functional parts of reliable quality. Moreover,the special tester our company has developed is offered with the know-hows, so people with similar issues can use it outside our company too.  
Introduction of Self-developed/introduced Equipment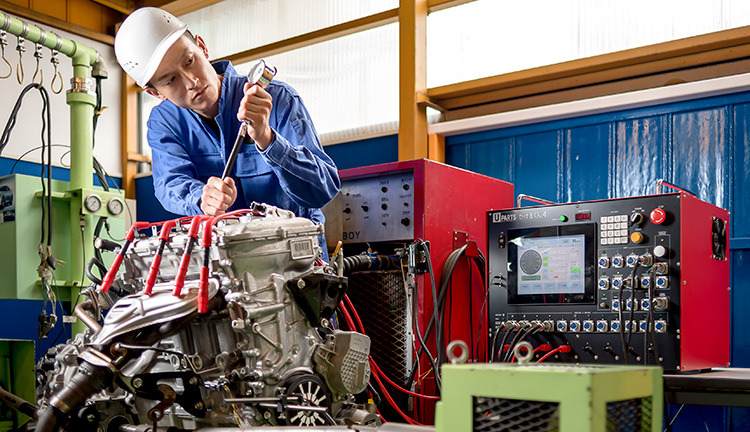 Engine Starter Kakerukun 4
Engine Starter Kakerukun 4 is an epochal system that allows quality check of a single engine, which had been impossible formerly, even without engine auxiliary machinery. This system is compatible with starting of environment-conscious engines: currently mainstream engines. In addition, the system is capable of starting common-rail diesel engines and hybrid engines that were difficult to start. 
Users can freely set a fuel injection timing and time. Also capable of controlling electronically controlled throttles and compatible with various sensors, the system allows more detailed control. After starting an engine with the system, we can conduct conventional tests including measurement of compression pressure that affects engine start-up performance and output and an operating noise check.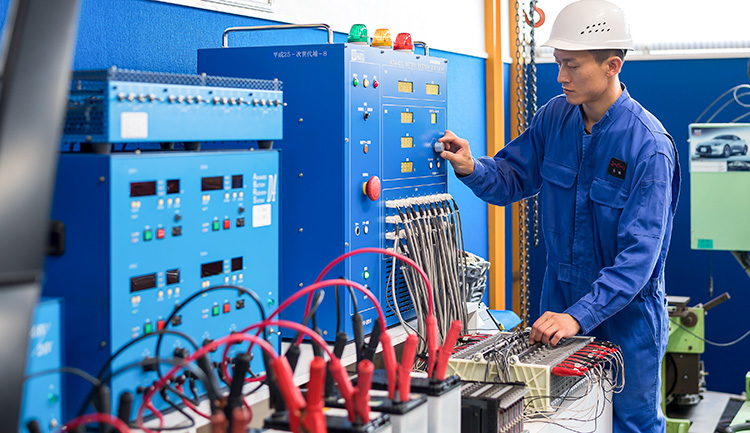 Battery Regenerator
Our self-developed battery regenerator based on unique technology allows regeneration of battery performance. In case of a lead battery, we not only charge it but also conduct JIS's five-hour discharged capacity test to check performance. The regenerator also allows regeneration of hybrid batteries that are currently used on many cars. 
Air Conditioner Compressor Tester
Housing an air conditioner system similar to cars', this tester is capable of reproducing the state of an air conditioner installed on a car for an operation test. We measure temperatures and pressures at different points to see if it normally operates. 
Our Testing Equipment Introduced First in the Industry
Our starter tester and alternator tester are used not only to conduct a load test but also to reproduce an actual load to check output accuracy. Each tester automatically determines whether the test subject passes or fails the test according to our standard values so that no difference may be generated between inspectors.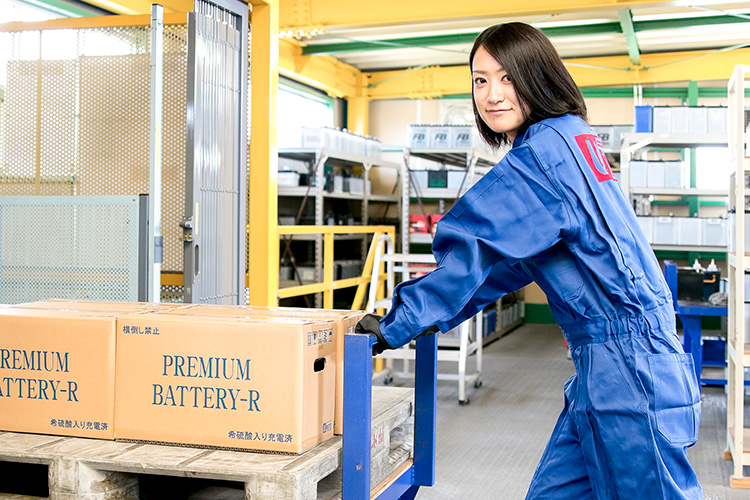 High Customer-facing Capabilities
We check our parts inventory on the basis of car information from a customer. In order to deliver requested parts to customers earlier, we have a system that allows us to manage all products in detail on computers and immediately inform a customer of an inventory status and goods condition when receiving an inquiry from the customer by phone or facsimile. Our staff acquainted with parts always tries to respond to customers swiftly and accurately. Their rich product knowledge leads to customers' trust and even to sales.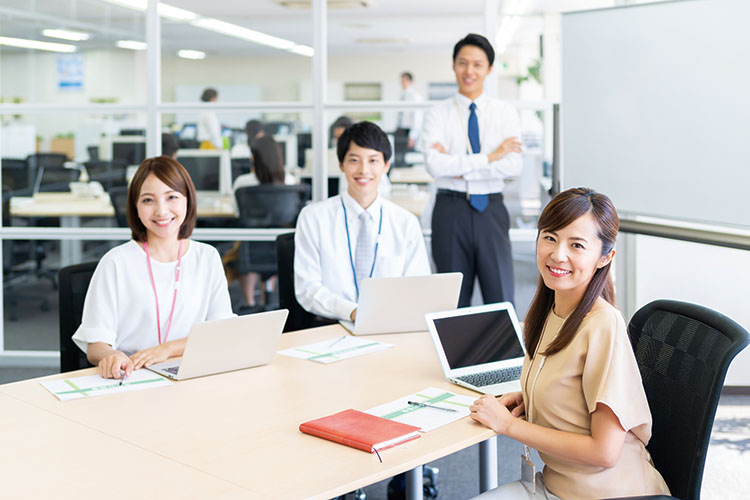 Reliable Support Capabilities 
We have a thoroughgoing customer support system. We give a warranty on every used part. In addition, we can rush to a customer facing a trouble and disclose the result of investigation of a problem, if any. In order to reassure our customers, we offer products to customers along with careful support without merely selling goods.