Business of U-PARTS
Today, Japan and other countries all over the world have a critical feeling about environmental issues and feel a desperate need for environmental protection for the earth that we leave to posterity and children's future. Worsening environmental issues are no longer irrelevant to business. 
Our automobile recycling businesses consist of collection of rare metals through proper processing of discarded cars and a resource environment business through sale of used automobile parts.
Besides, we realized numerical indication of how much these operations actually contribute to reduction of CO2. As for used parts, we developed testing equipment to build a system for supplying reliable high-quality parts. 
Our Roles in Automobile Recycling


After dismounting parts…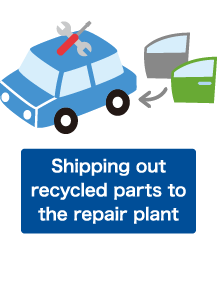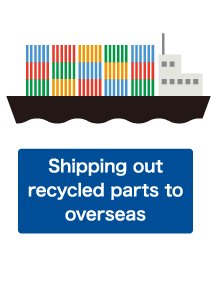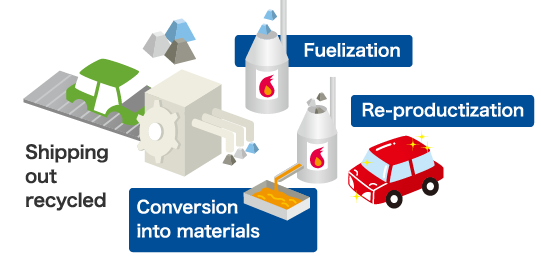 We recycle about 99% of car bodies. 
Two Strengths of U-PARTS
We abundantly offer recycled parts that passed our tight check using self-developed testing equipment. 
Using our broad sales network with domestic and overseas manufacturers/suppliers, we also speedily offer products that suit customers' needs. 

Dismounted Parts to High-quality Recycled Automobile Parts
Used cars are full of still usable parts and resources. Recycling parts from dismantled car bodies assumes a significantly important role in pursuing a recycling society and also leads to reduction of environmental load. 
Same-day Delivery of Both Japanese Car Parts and Imported Car Parts from Abundant Inventory 
Since the foundation of U-PARTS in 1975, we have been specialized in recycling automobile parts. With our longtime track record and know-how, we have a wide choice of high-quality parts regardless of car types. In addition, we can swiftly respond to your request using our nationwide sales network.